Business Online Banking
Voyager Business Online Banking combines the sophistication needed to manage business accounts with features designed especially for the needs of business.  It provides the tools you need to control your company's cash functions and the multi-factor security to keep your banking information safe.  Plus, you can view up-to-date balances because your account activities are posted in real time.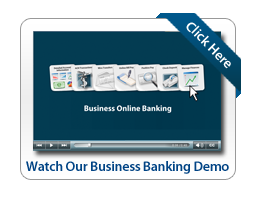 Business Online Banking Features:
Find What You Need
Get Account Information – Quickly locate transactions or checks that clear your account.
Review Current and Previous Statements – Access the current statement and previous transactions twenty-eight days prior to the current statement cycle.
Review Images of Paid Items and Deposit Tickets
Access Account Information
Export Your Account Activity For Your Accounting Software – You can export your account activity in the following formats:

Comma Separated (.CSV)
Intuit Quicken (.QIF)
Intuit Quicken (.QFX)
Intuit Quickbooks (.QBO)
Intuit Quickbooks (.IIF)
Microsoft Money (.OFX)

Multiple People Can Be Allowed to Use Assigned Areas of the Account – The account holder or main signer can allow additional users to log in to Business Online Banking while restricting what these additional users can access.
Process Transactions
Automated Clearing House Credit/Debit Processing – Initiate ACH transfers for payroll or cash concentration.
Wire Transfers – Initiate domestic or international wire transfers.
Optional Secondary Approval of Transfers – For an additional level of security, set up the requirement of two authorizations before a transfer can be processed.
Make Loan Payments – Pay Voyager Bank loans from your home or office.
Real-Time Transaction Posting – View up-to-date balances because transactions are presented to your account as they are posted.
Order Stop Payments – Place an online stop payment on a check item or ACH debit.
Business Bill Pay
Voyager Bank Business Bill Pay is $10.00 per month unlimited items or $3.75 per month with 8 items free per month and $0.50 thereafter per item.  First three months of service is FREE.  To enroll in this valuable service, contact your local branch and speak with a Voyager bank representative or Enroll Now.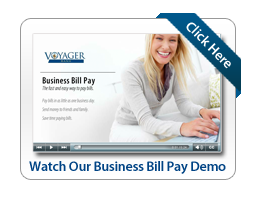 *Another way to send and receive money to anyone is through Popmoney.  It's a secure and fast way to transfer money from your Voyager Bank account to any other U.S. account using only his/her name and e-mail address or mobile number.  To send money to a family member or friend in as little as one day, simply go into online banking and then click "bill pay".

E-Statements and Notices
Speed up the delivery and reduce the clutter of paper by signing up for E-Statements and E-Notices.  Begin receiving your account statements and notices electronically through our secure Business Online Banking program.  It's convenient, secure, and great for the environment, and best of all...FREE